Team
SAMTACS (SAM®)
was founded by Dr. Ken Oesterreich and Marcel Köhler in 2004 in order to support experts and management staff in regard to change management, personnel risk management, leadership enhancement and intercultural competency.
Ken Oesterreich, PhD
Ken Oesterreich is the founder and head of
SAMTACS (SAM®)
. He holds a PhD in English Studies, a Master's Degree in Cultural Studies (Chemnitz University of Technology) and a B.A. Hons Degree in Political Studies (University of Otago). Ken Oesterreich is currently the only Third Phase exponent and representative of the Todd Group in Germany and specialized in camera-friendly use-of-force and tactical control and restraint options for various law enforcement institutions in Germany and Tansania, Southeast Africa.
Marcel Köhler, Certified Vocational Education Teacher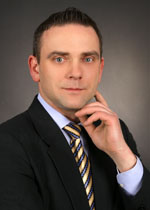 Marcel Köhler co-founded
SAMTACS (SAM®)
. He graduated as a vocational education teacher from the Technological University of Dresden in 2009 after having worked for several years as a state approved nurse in the clinical sector. Marcel Köhler supports and contributes to international conferences and workshops on the aspects of current tertiary education issues. Marcel Köhler is currently a member of the research staff of the department for Vocational Education Teaching of the University of Dresden.